From Art News Paper Daily
NEWS
Gustavo Aceves to install monumental horse sculptures in front of Rome's Colosseum
Travelling exhibition Lapidarium will also be on view at capital city's Trajan's Market
by CRISTINA RUIZ | 15 August 2016
Gustavo Aceves's Lapidarium (2016) will go on show in Rome in September. (Image: courtesy of the artist © Mario Basilio)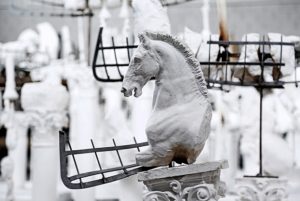 Forty monumental statues of horses are to be placed in front of the Colosseum and at Trajan's Market in Rome next month. The works, by the Mexican artist Gustavo Aceves, are made from a variety of materials including bronze, marble, wood, iron and granite. The horses are shown in fragments; some of them are standing in boats, others are positioned on top of classical columns.
The aim of the display is to tackle the issue of mass migration and "to throw a spotlight on the suffering of the many millions of people constantly moving in order to survive," says its curator Francesco Buranelli, the former general director of the Vatican Museums and now the secretary general of the Pontifical Commission for the cultural heritage of the church.
Aceves's equine statues are partly inspired by the four Roman horses which decorate the facade of St Marks' Basilica in Venice. These were taken from Constantinople after Crusaders sacked the city in 1204; in referring to these looted statues, Aceves's horses make us "look at our own difficult history in the West and acknowledge that, in part, our wealth and cultural achievements are derived from the exploitation of others," Buranelli says.
Aceves has been working on the horses for the past decade. In 2006, he moved to Pietrasanta in Tuscany so that he could be near to the town's renowned quarries and the many resident craftsmen who work the local marble. "It's a tradition which stretches back centuries" the artist told The Art Newspaper, pointing out that Michelangelo was the first of many artists to recognise the beauty of the stone near Pietrasanta. More recently, the Colombian artist Fernando Botero has also bought a house in the town.
Aceves's horses were installed in front of the Brandenburg Gate in Berlin last year to commemorate the 70th anniversary of the end of the Second World War in Europe and the artist says they will travel to Paris and Mexico City after Rome. The Roman display and the horses' ongoing tour is being privately funded by the artist and his collectors.
• The display of the horses is entitled Lapidarium and it will be on show in Rome from 15 September until 7 January 2017.
Correction: We previously reported that the exhibition includes 55 horses. It actually features 40.