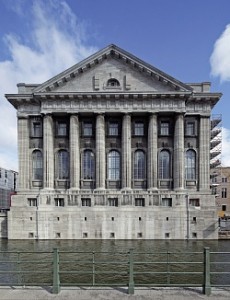 from: THE ART NEWS PAPER  November 2016
Pergamon Museum renovation costs spiral as reopening is delayed
Authorities consider alternative location to show Berlin museum's prized Pergamon Altar
Comment by CATHERINE HICKLEY | 1 November 2016
Pergamon Museum (© Photo: SMB/Maximilian Meisse)
The estimated cost of renovating Berlin's Pergamon Museum has rocketed to €477m, almost double the initial estimate of €261m. The German government has warned that the full reopening of the museum will be delayed by four years until 2023.
The reason for the delay is the discovery of a vast concrete pumping station under the museum, according to a spokesman for the construction ministry who spoke to the Deutsche Presse Agentur. The station was put in place during the museum's construction between 1910 and 1930 to remove water from the building site, and should have been removed once the work was over.
In order to reinforce the foundations, the pumping station has to be extracted but heavy machinery would risk damaging the museum's prize attraction, the Pergamon Altar. The altar, which is more than 2,000 years old, has been packed up behind scaffolding and protective sheets during the renovation.